FRANK JOSEPH ZIRBEL
WORKS FROM THE INFLUENCING ARTISTS SERIES
All inquires must be made by e-mail directly to the artist:
mentalinsect@yahoo.com

Zirbel's band Mental Insect plays tough rock music
For a complete Mental Insect discography and art links go to mentalinsect.com

all images: © 2000 - 2005 F. J. Z
---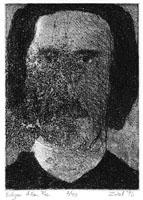 "Edgar Allen Poe"
Etching - edition size 40
1996/98/ Size -- 5"w x 7"h
---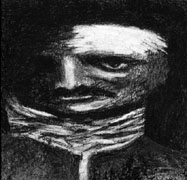 "Edgar Allen Poe"
Drawing - charcoal & chalk on rice paper
1996 Size: 6 1/2"h x 6 1/2"w
---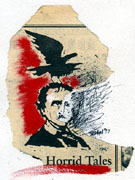 "Edgar Allen Poe and the Raven "
Drawing/Collage with gouche ink on gray paper
1997 Size: 9 "h x 6"w
---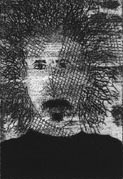 "Frank Zappa "
Etching, Aquatint
1994 Size: 5 3/4"h x 4 "w
Edition of 35
---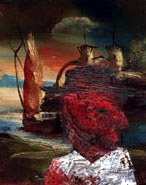 "Ambrose Bierce (Still Wandering about Mexico) "
Painting - oil over found painting on copper
1998 size: 4 1/4 "h x 3 1/2"w
---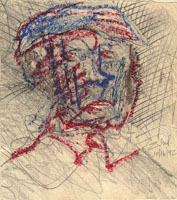 "Sunnyland Slim (Albert Laundrew)"
Drawing - pencil, crayon
1992 Size: 5"h x 4 1/2"w
---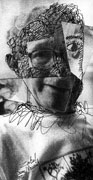 "Stephen Deutch "
Manipulated Photograph - ink, collage
1992 Size: 4 5/8"h x 2 1/2"w
---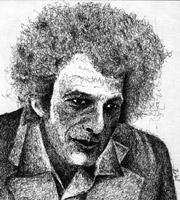 "Joseph Heller "
Drawing - india ink on paper/
1979 Size: 9"h x 8"w

*note - This drawing appeared in The Chicago Tribune's Book World Section 3/18/79
---
"Charles Bukowski"
Drawing - ink on found paper,
a messenger street drawing with obituary from newspaper
1994 Size: 10 "h x 6 3/4 "w
---
"Portrait of Paul Cézanne"
Drawing/pencil, red crayon on paper/
1994/size -- 9 3/4"h x 7 1/4"w
---
"Mozart"

monoprint/collage -- with ink, oil pastel/
1992/size -- 7 1/4"h x 5 3/4"w
---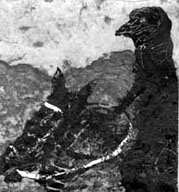 "Max Ernst Arrives in Arizona"

drawing/ink, gouache on found paper/
1990/size -- 4 1/4"h x 4"w
glued to gray paper -- 9 1/4 "h x 6 7/8 "w
---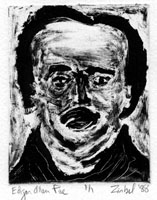 "Edgar Allen Poe"

monoprint/etching ink on paper/
1988/size -- 3 5/8"h x 2 7/8"w

---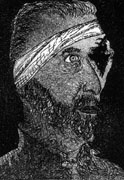 "Earlier That day Vincent Cut Off His Ear"
Portrait of Van Gogh

etching/aquatint/
1990/size -- 7 3/4"h x 5 3/4"w

---
"Paul Gauguin"

drawing/ink, wash, chalk/
1990/size -- 5 1/2"h x 4"w

---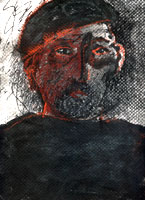 "Odilon Redon"

drawing/chalk, ink on paper /
1994/size -- 13"h x 10"w

---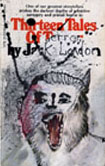 "Portrait of Jack London"

drawing/india ink on found paperback cover/
1991/size -- 6 3/4"h x 4 3/8"w

---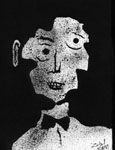 "Jean Dubuffet"

drawing/india ink on paper/
1989/size -- 7 1/2"h x 5 1/2"w

---
"Self-Portrait"
Drawing/ink and chalk on found vinyl
1998/size: 3 1/2" x 5"h
---
FRANK JOSEPH ZIRBEL
MIRROR TO THE MADNESS
Called a "figurative-expressionist," Zirbel (Frank Joseph) is a Chicago artist.
A native of Green Bay, Wisconsin, he´s lived in Chicago since 1977. His first group show -- in Door County, Wisconsin -- dates back to 1973. Primarily self-taught, Zirbel started drawing as a child and continued to this day. In 1978, he began etching and fell in love with the process; there are more than sixty images in his etching catalogue. In 1985, he started showing in New York´s East Village and continued through the rest of the 80´s, having great success with that time period´s art boom. 1985 also marked the year Zirbel started oil painting and working in color.
At the end of 1995, Zirbel abandoned his last day job. He is now letting his art sustain him.
Zirbel is also a rock musician. Under the moniker MENTAL INSECT, he has released three projects -- the newest being the CD "Two-Headed Fly." In the first half of the 1980´s, he was with the band Bohemia -- releasing five records that have reached collector status.

BEST UNDISCOVERED ARTIST

"Last summer, in a show at Judith Racht´s Southport Avenue gallery, his bold paintings and drawings created a sensation that was backed up by lively sales." Chicago Magazine 1997
"Zirbel´s very detailed etchings display the long tradition of exquisite craftmanship," Hyde Park Herald

"Filled with subconscious imagery, Zirbel´s pieces are ominous, disturbing, grotesque, yet intriguing and beautifully rendered." Chattanooga Free Press
---
Edgar Allen Poe #1 | EdgarAllen Poe #2 | EdgarAllen Poe Raven | Frank Zappa | Ambrose Bierce | Sunnyland Slim | Stephen Deutch | Joseph Heller| Charles Bukowski | Paul Cezanne | Mozart | Max Ernst | Edgar Allen Poe #3 | Vincent VanGogh #2 | Paul Gauguin | Odilon Redon | Jack London | Jean Dubuffet | Zirbel/Self-Portrait