Offspring of the legendary African musician Fela Anikulapo Kuti, Nigeria's Femi Kuti revitalizes his father's incandescent Afro-beat music while establishing his own passionate voice. Singer, saxophonist and leader of the 16-member band Positive Force, Femi plays a tight, furious, thoroughly modern brand of electro-fied Afro-beat -- a gripping fusion of the jazz, funk and African rhythms pioneered by Fela with his own swirling saxophone lines, incantatory vocals and hip hop, house and Motown influences. While Fela's music thundered on, free-form, for trance-inducing lengths, Femi's music explodes in concise, punchy songs that propel Afro-beat into a new era.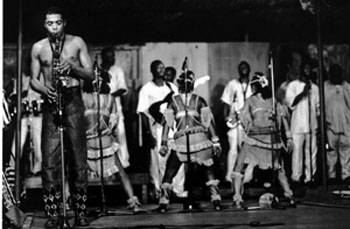 "I grew up listening to Michael Jackson, Donna Summer, The Temptations, the Supremes along with lots of jazz," says Femi. "In my music, you can hear the jazz, the Afro-beat of my father, but you can still sense that it's different. It's something new -- it's fresh." Not as raw and implacable as his father, Femi packs his music with outrage, sorrow, joy, and humor -- a tempered version of Fela's confrontational, derisive style.
A political firebrand who proclaimed music as a weapon, Fela performed incendiary songs attacking Western exploitation, government corruption and police brutality. While his transcendent music, rebellious message and provocative lifestyle made him an international celebrity in the 1970s and 80s, Fela -- and his family -- paid for his instigation and dissent with harassment, flogging, broken bones and jail time from Nigerian authorities. AIDS killed Fela in 1997.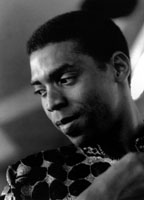 Femi grew up amidst violent turmoil ­- watching soldiers burn his house and, on several occasions, arrest his father -- that still haunts him. Femi points out that Nigeria¹s newly elected president is a former soldier with blood on his hands. "Obasanjo was in charge of the military when they destroyed Kalakuta (Fela¹s commune)," Femi says, with disgust. "Imagine, he's now the president of Nigeria. My people don't listen. It's upsetting, but I try to control my emotion."
A political activist, Femi criticizes complacent Africans and a still-corrupt government in surging, urgent songs like "Truth don die," "Sorry sorry" and Blackman know yourself." He battles AIDS ignorance by speaking out at his concerts. "If someone like me talks about it, more people will become aware of the problem, more people will be careful," he says. He also directs an organization M.A.S.S. -- Movement Against Second Slavery -- dedicated to educating Africans about AIDS and pan-African ideology while empowering Africa's youth through positive change.
While he embraces the musical and political legacy of his father, 37 year old Femi -- who bears an uncanny resemblance to the young Fela -- lives a more conventional lifestyle than his maverick father who advocated marijuana smoking and sexual promiscuity. Femi does not smoke and lives, monogamously, his wife Funke who dances and sings in Positive Force. He protects Funke and his 4 year son Made from the fractious life he endured. When Fela married 27 women, Femi acquired 27 stepmothers in addition to his real mother Remi. "I did not get along with the other mothers," Femi says. "Things were very complicated, very horrible."
Wanting to get close to his father, Femi, at 16, joined Fela's band Egypt 80. He learned on the job. "I taught myself the saxophone and watched my father ­- all his movements, why he did what he did," says Femi who first received international attention in 1985 when he led the 40-piece Egypt 80 at the Hollywood Bowl after Fela had been arrested at the Lagos airport while departing for the U.S.
After 6 turbulent years in Egypt 80, Femi formed Positive Force in 1986. "My father was upset. He wanted me to eventually take over his band," Femi recalls. Despite Fela¹s lack of support, Femi persisted. "I did not want to be under my father's shadow, I wanted him to respect me for doing something good. I managed that." After a strained separation, the two reunited in 1991. "We became very close until he died." Fela even regarded Femi as a spiritual force and told author Carlos Moore that Femi was psychic and motivated his spiritual awakening.
Now Femi wants to awaken young Africa. My father set the foundation for me to continue the struggle," says Femi. "I think the struggle is more relevant now because things are worse. All you see in Africa now is AIDS, corruption, poverty, wars ­- and the youth are frustrated. If I can inspire the youth to be hard-working and make them think more positively, that will be success."
"Shoki Shoki" Femi Kuti's third album came out earlier this year on MCA Music, who simultaneously released 20 Fela albums. Femi Kuti and Positive Force return to Chicago to play the Vic on August 18.