The AIDS-related death of Africa's most influential musician Fela Anikulapo Kuti, 58, silenced one of its most outspoken political dissidents. Proclaiming music as a weapon, Fela attacked tyranny, oppression and injustice while prophesying a utopian vision of African unity.
His rebellious energy and transcendent music generated a militant, worshipful following especially among the young, poor and alienated -- the Afrobeat generation. Following his August 2nd death, thousands gathered around his house and nightclub in Lagos to bid farewell to the African legend known as "Black President," "Chief Priest," and "Baba" ("father").
"For us, it1s as if both Elvis Presley and Martin Luther King died," a Nigerian friend told me.
Fela, along with his ethno-orchestra Africa 70, invented the sprawling, hypnotic Afrobeat style which merged African percussion and polyrhythms with the funk style of James Brown, the improvisational sense of Miles Davis, the articulate indignation of Malcolm X, and the electrifying charisma of Bob Marley.
"A remarkable composer, singer and saxophonist Fela was clearly Africa's foremost musician of the 20th century," said Johann Buis of Columbia College1s Center for Black Music Research.
Africa's first international pop star, Fela played a key role in the global spread of African music in the 1970s. Since then, a new idiom modeled on Fela's Afrobeat fusion -- "World Beat" -- has taken shape as an eclectic concoction blending Third-World music with Western styles and instrumentation.
"Fela blazed a trail for African musicians," said Dr. Frank Fairfax an anthropologist, musician and Fela scholar. "He showed that one could develop an indigenous popular music and thrive with it rather than copying Western songs like everyone else."
Western musicians, like funk innovator George Clinton, have also been inspired by Afrobeat. The anti-establishment rap style of groups like Public Enemy and Grandmaster Flash owes a debt to Fela as does the African funk direction taken by Talking Heads, Brian Eno and other rock bands in the late 70s.
"When I heard his music, it split my mind," says former Talking Heads leader David Byrne. "Everything about him was familiar and different. He was referencing American jazz, the Last Poets, James Brown, Sly Stone and adding the African vibe to it -- it was musically amazing and emotionally powerful.
"He also had something to say which set him apart from other African musicians," says Byrne. "He's the one who brought social awareness into African music."
Though he'd been playing music since the 1950s and even studied music in England, Fela's concept for the politically charged, Afrobeat style first emerged in Los Angeles in 1969. "The turning point in my life was my trip to the United States," he told me during a 1983 interview at his Ikeja home where he sat, as usual, wearing only colorful underwear and smoking a huge joint.
Inspired by the rage of the Black Panthers and awakened to his African identity by the nationalist ideas of Malcolm X and the Pan-African socialism of Kwame Nkrumah, Fela found his calling.
"I wanted to make my country African again," he said. "I could see the evil of government . . . of foreign values -- alien values. I came back home with the intent to change my music and change the whole system."
Like a musical machine gun, Fela fired off one scathing song after another in the 70s and 80s. "Colonial Mentality" and "Mr. Follow Follow" denounced Africans for their obsession with Western ways; "Confusion "condemned the police; "Zombie" ripped the military; while, "Vagabonds in Power (VIP)" and "Army Arrangement" cited specific corruption scandals and mocked officials by name.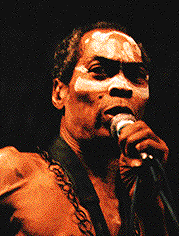 Proclaiming the "Kalakuta" (or "rascal") Republic, he married 27 women many of whom were dancers and singers in the band, some of whom were runaways. He opened his own nightclub in Lagos called The Shrine. His magnetic live performances attracted such notables as Stevie Wonder and Paul McCartney (who later recorded "Band on the Run" in Lagos).
The son of noted feminist and pioneer for Nigerian independence Funmilayo Ransome-Kuti, Fela waged musical war with Nigerian authorities for more than 20 years. Relentless government persecution included harassment, detentions, forced exile, jail terms, and numerous beatings. Surrounded by chaos and controversy, he gleefully played on.
"Two weeks after soldiers had burned his house down in 1977, I showed up at Fela's hotel, stranded in Lagos," remembers Art Ensemble of Chicago trumpeter Lester Bowie. "One thousand soldiers had surrounded the place, threw his momma out the second story window, beat up him and his brother and smashed and burned the place."
"When he heard I played horn, he got his sax and we played some blues. After I blew the walls off, he said 'go get your bags, you're moving in with me.'" Bowie stayed for seven months recording with Fela on classics like "Zombie" "Black President" and "No Agreement."
Fela's police confrontations embellished his legendary status as a fearless champion of oppressed people and a stubborn crusader for human rights.
"If they think I'm gonna change or compromise my attitude and my way of life or my expression or my political goals, they're wrong. They are making me stronger."
When his mother died from injuries suffered in the 1977 incident -- "the Kalakuta Inferno" -- he blamed the authorities in the song "Coffin for Head of State," while declaring her an ancient spirit. He even ran for president of Nigeria in 1979, though his political party Movement of the People (MOP) was outlawed.
After enduring two tortuous years in prison (1984-86) on what Amnesty International called "spurious" currency violations, his political fire faded. He made little effort to challenge Nigeria's current military ruler Gen. Sani Abacha despite the fact that Abacha had imprisoned his brother Dr. Beko Ransome-Kuti, a democracy activist, for alleged involvement in a "coup plot."
Fela's withdrawal from activism amplified rumors about his failing health and even led to suspicions that he suffered from AIDS. "He just wasn't himself," said Dr. Fairfax who saw him in 1992. "He wasn't bothering anybody."
Fela's AIDS-related death provoked intense debate, inside Africa, about the safety of his wives and many sexual partners, his attitude toward condoms and his failure to educate people of the dangers of AIDS.
His death also focused attention on the astonishing and under-reported spread of AIDS in Africa. The World Health Organization's most recent statistics show an astronomical increase in Africa's share of the world1s AIDS cases: from 35% in 1977 to a breath-taking 70% in 1995.
Dr. Olikoye Ransome-Kuti, Fela's brother and former deputy director-general of the World Health Organization, used his announcement of Fela's death to criticize the Nigerian government for failing to implement effective AIDS-prevention programs. Even in death, Fela stirred controversy.
"In some ways he was a martyr," said David Bryne. "Many times over he's been suppressed by the government, they'd beat him up repeatedly, beat up his wives, beat up his band, stop him from touring and throw him in jail on trumped up charges. It happened over and over again and the guy just kept on going."
"Death is a beautiful thing . . ." Fela told writer Carlos Moore in the book "Fela Fela." "I know that when I die I will see my mother. So, death doesn't worry me, man! I want to die. I will do my part . . . Then I'll just go, man . . . Just go."
Culture Shock: Waiting for Fela in Lagos Nigeria (1983)
Army Arrangement - a music video by Dan Dinello with music by Fela